Note changes to booking,
you can now book repeat appointments within 30 days.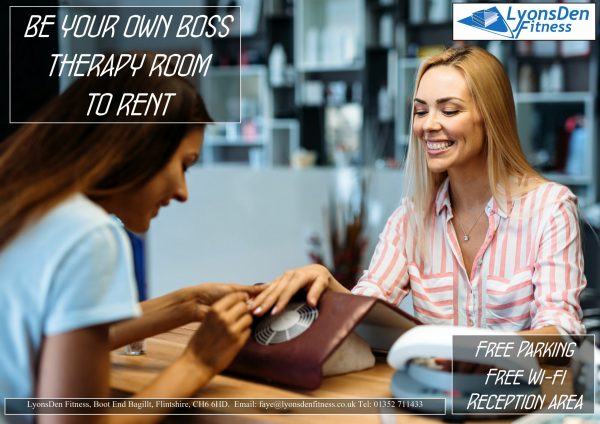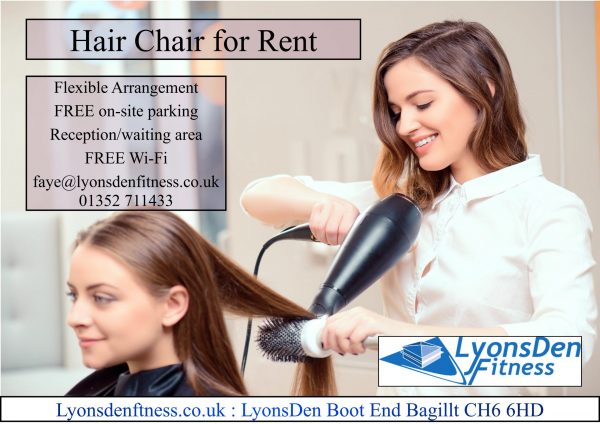 Let Us Be your inspiration on your journey To a Fitter Future
Make LyonsDen Fitness be your place to go, a place that makes you feel welcome, where you maintain or re-shape you, in a place that is airy comfortable and friendly.
Get use of the Fitness Classes, Main Gym, Ladies Gym, Jogging track, Health Suite and a free induction.
Make the most of the long opening hours, the welcoming atmosphere, spacious well ventilated areas.  Come to classes like Ladies HIIT Circuit, Cardiokick, Toning, Bums and Tums, Yoga, Pilates, Cross-Fit.
All sessions need to be booked via the website using the booking system. If you're not sure please ring 01352 711433.
The health suite (Sauna), lockers and showers are open with some restrictions, (steam room is not yet back).
We have Neil & Faye, with Zoe in the Gym, then we have Carrie and Kiera on reception in the evenings.
Neil also offers Personal Training so if you are looking for some targeted Training or Nutrition plans have a chat.
If you are a Qualified Personal Trainer or teach Studio classes / Crossfit / Spin / Yoga we are looking to grow our variety of instructors. So if that's your area and if it fits our schedule get in touch. There may be some areas where an instructor could take over an existing session or bring in something fresh. There are times early morning, early evening and weekends that could be considered.
If you are looking for a venue to do Personal Training, contact us for more information.
Please remember when considering your place to exercise think about us, we are about the biggest facility in the area with spacious well-ventilated areas.  Boasting a wide range of equipment years of experience as well as lots of sanitising stations.
Low Prices
Don't Forget our normal Class Prices are only £5.00 or £8.00 for back to back or £40.50 for 10 sessions.
 Cross-Fit
Sunday morning at 9:15am and Wednesday evening at 7pm Cross-Fit In the Den Class, happening in the Cross-Fit functional training room.  A 45 minute class
As a Member you get a Free Program to guide you, we are only closed Xmas Day and Boxing Day
Main Gym, Ladies Gym, air conditioned fitness studio and Cross-Fit studio the large Studio holds up to 80, Lit undercover jogging track, Steam and Sauna
Preferential rates on Hair, Beauty, Holistic, Complementary and Fat Freezing treatments.
Commitment can be daunting so we offer the chance to try it without a contract.  Pay the day rate a few times, and if you join within 2 weeks of the first one we'll take the value of up to three off your first month
Get Better Results & A ton of Fun
Your goals are important to you. Your journey is important us
Life Is About Balance, Health and Fitness is about your Future